Back to List
News
August 8, 2018
Fall 2018 at the Austrian Cultural Forum New York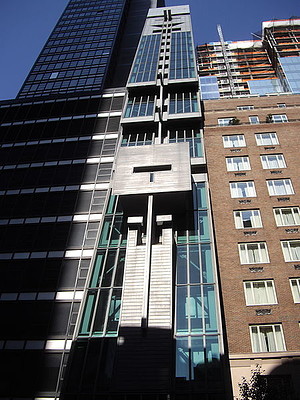 | | |
| --- | --- |
| | |
| | Gustav Mahler |
In addition to being a virtuoso performer and improviser on both organ and electronics, Wolfgang Mitterer is one of the most important contemporary Austrian composers and a pioneer in the field of electroacoustic music. The concert on November 30 features Mr. Mitterer performing on St. Peter's acclaimed Johannes Klais Orgelbau organ. Complete program details are below.
October 1 - 4
Austrian Cultural Forum New York and the Argento New Music Project presents:
Monday, October 1, 7:30 pm | Moving Sounds 2018 Opening Concert
Music Mondays - Advent Lutheran Church
2504 Broadway, NYC
Gustav Mahler/M. Galante - "Trinklied" from Das Lied von der Erde
Taylor Brook - Arrhythmia - expanded version
Jesse Jones - Threshold
Alma Mahler - drei lieder
Patricia Alessandrini - hommage à Alma Mahler * preview performance
Gustav Mahler/M. Galante Symphony 10: Adagio and Scherzo/Finale
Tuesday, October 2, 8:00 pm | Emerging Austrians
Austrian Cultural Forum New York
11 East 52nd St., NYC
Elisabeth Harnik - Kugelstein II
Bernd Klug and Meaghan Burke - New Work
Manuela Meier - What you see, it is
Wednesday, October 3, 7:00 pm | The Mahler Discussions
Austrian Cultural Forum New York
11 East 52nd St., NYC
Columbia University lecturer Marilyn McCoy, author of "Gustav Mahler's Path to the New Music: Musical Time and Modernism," and Thomas Schäfer, the director of the Darmstadt Festival for Contemporary Music and author of "The model case of Mahler: compositional reception in contemporary music", join festival composers Elisabeth Harnik, Patricia Alessandrini, Oliver Schneller, Taylor Brook, Meaghan Burke and Bernd Klug in discussion.
Thursday, October 4, 1:00 pm | Lunchtime Concert
St. Peter's Church
619 Lexington Ave., NYC
Oliver Schneller - Clair-obscur
Gustav Mahler/M. Galante - Das irdischen Leben
Purgatorio from Symphony #10
selections from Rückert Lieder
Gerhard Krammer - selections from Rückert Lieder
Patricia Alessandrini -
hommage à Alma Mahler
* preview performance
Thursday, October 4, 7:30 pm | Mahler and Space
St. Peter's Church
619 Lexington Ave., NYC
Program:
Oliver Schneller - Clair-obscur
Matthew Ricketts - after nine
Gustav Mahler/M. Galante - Das irdischen Leben
Purgatorio from Symphony #10
Elisabeth Harnik - new work for flute and piano
November 29-30
Ensemble Signal and Wolfgang Mitterer
Austrian Cultural Forum New York
11 East 52nd St., NYC
Wolfgang Mitterer -
IM STURM
- 11 Songs for Baritone, Electronics &
Prepared Piano, after Franz Schubert
On-stage Discussion with Wolfgang Mitterer
Friday, November 30
St. Peter's Church
619 Lexington Ave., NYC
Program:
Wolfgang Mitterer - mobile beats for ensemble and electronics (2012)
Wolfgang Mitterer - Solo Organ & Electronics Set
With its architectural landmark building in the heart of Midtown Manhattan, the

Austrian Cultural Forum New York

is the cultural embassy of Austria in the United States. It hosts more than 100 free events annually and showcases Austrian contemporary art, music, literature, and academic thought in New York.

The Austrian Cultural Forum New York is located at 11 East 52nd Street (between Fifth and Madison Avenue). Admission to events is free, and reservations, via

www.acfny.org

or (212) 319 5300, are required.

| | |
| --- | --- |
| | |
| | Austrian Cultural Forum New York |
See Related: