Back to List
News
January 16, 2018
Musical America reviews "The Echo Drift" at Baruch PAC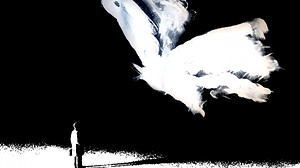 At the Prototype Festival, The Echo Drift Zaps the Mind

January 12, 2018 by Bruce Hodges, Musical America
Solitary confinement can cause the mind to react in unpredictable ways. Isolated from markers that delineate time, the brain can wander into undefined territory. On Wednesday at the Baruch Performing Arts Center, the Prototype Festival presented the world premiere of The Echo Drift, an opera notable for its unsettling ambiguity.
Swedish composer Mikael Karlsson, with librettists Elle Kunnos de Voss and Kathryn Walat, have created a fantasia that explores the mind of Walker Loats, an inmate in the Hersh Penitentiary, where she is sentenced to life for murder. As part of her colorless existence, in a gray cell with only a bed and a desk (De Voss designed the elegantly spare set), Loats creates mechanical devices constructed of "spoons, bed springs, and chewing gum" to help mark the time.
Without human contact, Loats has the space to ponder her past, but grows increasingly disoriented. De Voss also contributed illustrations—endless hallways, topsy-turvy architectural renderings, and a crucial insect—all strikingly animated by Dara Hamidi, and transformed by Simon Harding into crisp projections, which flooded both the set and the wall-sized screen behind it.
About halfway through the piece, as Loats dismally examines her bowl of soup, she carefully fishes out a small cocoon. After attaching it to the wall of the cell, she drifts off to sleep. In the meantime, the cocoon grows and changes into a moth, portrayed by John Kelly (who also played the nameless Governor to whom Loats appeals her sentence). The moth entices Loats into what appears to be another state of consciousness—the "echo drift"—encouraging her to re-examine the past, present, and future.
Appropriately, Karlsson's score is as disorienting as its subject matter—an eclectic maelstrom of tonal and notso-tonal, often laced with subtle ticking motifs, a reminder of the banality of time passing. Some arresting textures for harp tease the ear, and individual notes, especially on the piano, are subjected to microtonal alterations, thanks to Levy Lorenzo's adroit live electronic processing. In contrast, Karlsson gives Loats some soaring vocal lines, as a foil to some of the pointillist instrumental effects.
Obie Award-winning director Mallory Catlett, with impressive credentials in experimental theater and opera, shows a sure hand, creating a trippy, claustrophobic universe. As with many Prototype productions, economical means are the order of the day, but she deftly coordinates the blend of live action and technology, masking any shortcuts or budgetary constraints.
Nicholas DeMaison conducted with unwavering clarity, helped by seven superb musicians from the International Contemporary Ensemble. Lorenzo's electronics wizardry—effectively an eighth instrument—creates unusually vivid textures, such as the complex, machine-like chords repeated near the end, tolling like otherworldly bells.
It is hard to sufficiently praise soprano Blythe Gaissert as Loats, singing tirelessly over the course of the opera's 70 minutes. Whether shrieking in exasperation or toned down to a hush, her voice was the manifestation of a troubled soul, unable to distinguish between reality and nightmare. Effectively communicating boredom, exasperation, and confusion, her performance made the mind wander to Poulenc's monodrama, La voix humaine, which would make a fascinating coupling with this piece. In the final scene, Loats finds the parts to her clock-like device, but scattered over the floor. Is this a flashback to her opening days in prison? Or is the entire hour an inescapable bad dream?
On a technical note, surtitles might have been helpful, despite Gaissert's admirable diction. Given the role's high tessitura, words were often unintelligible, perhaps a third of the time. Plus, though the six-channel setup offered clarity and presence to the instrumentalists—Filip Aaby was the admirable sound engineer, given nonstop challenges—now and then piercing vocal climaxes made it difficult to understand the libretto. Some crucial plot details were lost in the composer's dense clouds.
When all is said and done, the work's thesis seems slightly obscured—or perhaps that is the point. Are the moth and its invitation a dream, a hallucination, or neither? Near the end, the Governor showers Loats with hundreds of sealed letters, but it isn't clear whether they were notes she never read, or notes she sent that never reached their destinations.
This production of The Echo Drift was never dull, especially given the talents of the performers and the technical expertise on display. But if audiences are to grasp the concept behind it, its creators need to bring more clarity. Still, if on first hearing, the parts were greater than the sum, those parts were often mesmerizing.

Further performances January 12-13; 18-2
See Related: