Back to List
News
February 27, 2018
March 15: Israeli Chamber Project at Baruch PAC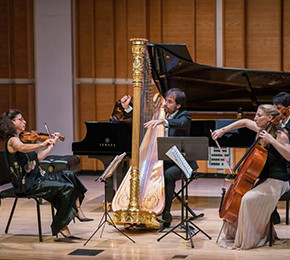 Baruch Performing Arts Center presents the Israeli Chamber Project
ICP presents a program of four masterworks and one world premiere
On Thursday March 15, 2018 at 7:30 pm, Israeli Chamber Project celebrates its 10th Anniversary Season with a performance of four masterworks and one world premiere, at Baruch Performing Arts Center's Engelman Recital Hall.
The concert kicks off an extensive U.S. tour for the ensemble, which is celebrating its 10th anniversary this season. ICP's program on March 15 features Schumann's Piano Quintet, which captures both the intimacy as well as the directness of the chamber music medium and is one of his most recognizable works. Ravel's genius as an orchestrator is on full display in the Introduction & Allegro, a brilliant septet with the harp taking center stage. Stravinsky's Petrushka (1911), in a chamber version commissioned by ICP, and a virtuosic duet for clarinet and flute by Elliott Carter (1994) showcase two titans of the twentieth century making their mark at the outer edges of that epoch. These are joined by the world premiere of a new work by award-winning composer, Gilad Cohen, in his second commission for the ensemble.
Formed in 2008, the Israeli Chamber Project's mission is to bring top-notch chamber music performances to both urban and rural venues in its native country as well as around the world. Whether performing in a remote kibbutz, an Arab town, the bustling metropolis of Los Angeles, or the intimacy of New York City's Baruch Performing Arts Center, the ICP has earned high praise from the media and enthusiastic accolades from audiences.
The concert is at 7:30 pm on March 15, 2018 at BPAC's Engelman Recital Hall, 55 Lexington Avenue (enter on 25th Street between 3rd and Lexington Avenues, on the south side of the street) in the heart of Manhattan. Praised for its superb acoustics, the Rosalyn and Irwin Engelman Recital Hall has been called "a perfect hall for chamber music" by Anthony Tommasini of The New York Times. Tickets are $36 for general admission and $16 for students and are available at www.baruch.cuny.edu/bpac/.
See Related: