Back to List
News
March 26, 2018
ConcertoNet Review: Cantata Profana "Stravinsky Salon"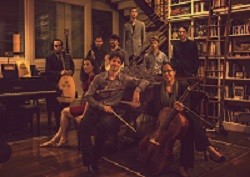 Fractional Universes
New York
The Rosalyn and Irwin Engelman Recital Hotel, Baruch Performing Arts Center (BPAC)
03/23/2018 -
Stravinsky Salon:
John Cage: Six Melodies for Violin and Keyboard: #5, 2, 4, 5
Anton Webern: Four Pieces for Violin and Piano, Opus 7
Igor Stravinsky: Duo Concertant
Luigi Dallapiccola: Due Studi
Johann Sebastian Bach: Sonata for Violin and Keyboard No. 5 in F Minor, BWV 1018 – Cantabile, ma un poco Adagio, from Sonata for Violin and Keyboard No. 6 in G Major, BWV 1019
Tōru Takemitsu: Distance de fée
Cantata Profana: Lee Dionne (Piano and harpsichord), Jacob Ashworth (Violin and Baroque Violin)

"Whatever new extremities of discovery or understanding we reach, we always seem to find the footsteps of Bach there already."
Douglas Adams, The Salmon of Doubt
"Just when your music starts, it comes to an end."
Anton Webern's father, to his son

To quote Humphrey Bogart, "I was misinformed". With the name "Cantata Profana", I assumed that the Baruch Performing Arts Center would be getting a double choir, a coterie of soloists and a huge orchestra to perform Béla Bartók's giant oratorio last night.

Instead, the massive forces for Bartók were pared down to a single fiddler and a single keyboard player. The obvious assumption was that this economy of resources, was the sad result of the Wall Street plunge. However, again I was indeed misinformed. Cantata Profana may be a grand Rumanian-language oratorio. But for six years, the name has also described a New York-based fungible vocal-instrumental ensemble whose repertoire crosses the centuries, but whose programs are always imaginative.

Two of its practitioners, violinist Jacob Ashworth and pianist Lee Dionne gave a typically innovative recital playing 20th Century and Bach sonatas. The innovations, though, were the way the works were bisected, instruments changed, and textures from these two expert players producing unusual sounds.
Taking three of John Cage's early Melodies for Violin and Keyboard, placing them around other composers, is like taking three multi-colored snails and dropping them between orchids. Not that the Cage works have much color. They must be played without vibrato, the bow must almost never touch the string, and the various "gamuts" (the sonorities don't have any relationships to each other) seems like a losing game.

Still, the few seconds of each "melody" was not harmful to anybody's emotional health. And the secret could be in the picture above, dedicated to painter Josef Albers with his obsessed system of squares that don't quite intertwine with each other but are mutually fulfilling.

The other solution came with a typically innovative move by Ashford and Dionne.

The latter at a single-register, simple harpsichord, Mr. Ashford with a "Baroque" violin, played Cage's Second Melody, and it sounded even better, Cage's "progressivism" retracted back to a musically antediluvian period without resonance, without emotion, with a bare folkish tenor, committing Cage back where (I opined) he belonged.
Not that the Bach Fifth Sonata for Violin and Keyboard had the resonance one needs, since, after Webern and Stravinsky on Steinway and modern fiddle, one became accustomed to full breathing sounds–even when the breathing was a single Webernian breath.

Both performers were scrupulous in playing Bach as it probably was played in 1720. Except that the Sonata was written for a small intimate salon, not the Weimar church of a modern Manhattan auditorium. Thus, the one-register harpsichord sounded tinny, the violin sound was tiny.

The night before, a single floor down, the production of Pyramus and Thisbe written in the same year, used those same instruments. Yet the voices above them were so lyrical that the anachronisms were soon forgotten. Here, alas, J.S. Bach was lost. One can respect their authenticity without feeling an emotional pull.

Then again, Stravinsky (or as the title page of the program blazoned out, "Stravinksy") had the faux-authenticity of Classicism without an iota of "fauxness". The forms were formal on paper, but Mr. Ashford gave them a mighty lift through all five movements. And with the Gigue, Stravinsky surrendered to his inevitable melodic gift with fiddle-playing that could have come out of Histoire du Soldat.

Of the two new pieces, Luigi Dallapiccola's Due Studi was perhaps the personally emotional (if that is important). Unlike the other composers (Webern was a passive Nazi), Dallapiccola was a revered Leftist. He and Luigi Nono wrote a pair of the most passionate political operas on record.

The Two Studies were written a year after the Second World War, and were celebrated here by lachrymose sarabande, starting with a gorgeous violin solo, and then a "Fanfare and Fugue", with piano/violin drums and a Bach-like military fugue.

The Takemitsu Distance de fée, was the opposite. This was gossamer Debussy-Messiaen style. Where Dallapiccola was meant to grip one by the emotional testicles, Takemitsu's music was like a Midsummer Night's Eve fairyland of sounds.

Mr. Dionne's piano touch was so light, so acute throughout the recital, with Mr. Ashford's so sensitive violin, that it was less a Takemitsu mini-epiphany, as a singular amiability.
Harry Rolnick
See Related: