Back to List
News
March 24, 2017
Chicago Tribune Review: 'Defiant Requiem' conjures tragedy, triumph of music in Holocaust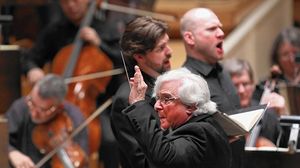 Chris Sweda / Chicago Tribune
By Howard Reich
How did they do it?
How did the hungry, sick and dying Jews of the Terezin ghetto/concentration camp manage to learn Verdi's Requiem in the midst of such horrors?
How did they summon the strength to perform this Mass for the dead not once or twice but fully 16 times?
And how did they deliver their final performance — on June 23, 1944 — for an audience of their Nazi captors and members of the International Red Cross?
More than seven decades later, answers elude us, and the scope of their heroism transcends description. But the lessons of their achievement resonate to this day, not just in books and films but startlingly in "Defiant Requiem: Verdi at Terezin," a concert-drama that had its Chicago premiere Thursday night in Orchestra Hall at Symphony Center.
Read the entire review at this link.
See Related: