A major force in 21st century concert music, Victoria Bond leads a dual career as composer and conductor. Her compositions have been praised by the New York Times as "powerful, stylistically varied and technically demanding," and her conducting has been called "impassioned" by the Wall Street Journal and "full of energy and fervor" by the New York Times.
Victoria Bond's new groundbreaking opera, Mrs. President, tells the true story of Victoria Woodhull, who, in 1872, was the first female candidate to run for the US presidency. Anchorage Opera presented the premiere of the newly orchestrated score of Mrs. President in October, 2012.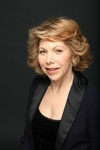 A joyful musical double bill by Chamber Opera Chicago was on view at the Royal George Theatre on Dec. 19 for the conclusion of a two-performance run.
"The piece [The Miracle of Light] is well constructed both musically and dramatically, with the action moving swiftly between alternating ensemble and solo moments."
— Chicago on the Aisle