Gail Wein provides communications services for artists and projects in classical music, including Publicity, CD Promotion, Web Content, Program and Liner Notes, Radio Production and Communications Consulting.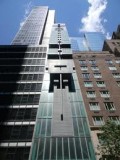 Concert Series
With its architectural landmark building in the heart of Midtown Manhattan, the Austrian Cultural Forum New York is the cultural embassy of Austria in the United States. It hosts more than 100 free events annually and showcases Austrian contemporary art, music, literature, and academic thought in New York.

Recording
Conceived and realized in partnership with Q2 Music's Peabody award-winning podcast Meet the Composer, Splitting Adams is Alarm Will Sound's tribute to American composer John Adams, and in particular to his works Chamber Symphony (1992) and Son of Chamber Symphony (2007).

Concert Series
The interactive concert series Baby Got Bach, hailed as "magical" and a "wonderful carnival of musical exploration," was founded by concert pianist Orli Shaham in 2010. As Artistic Director, she draws on both her background as an internationally renowned musician and her experience as the mother of young children. Designed for children ages 3-6 and...

Concert Series
Baruch Performing Arts Center (BPAC) is an active presence in the heart of Manhattan. Located just east of the Chelsea neighborhood, BPAC presents world class Classical music, Jazz, Pop, theater, dance, literary and spoken word, film, and talks. BPAC is the New York home of the Alexander String Quartet and presents a 2016-17 chamber music season including The Israeli Chamber Project, two annual...

Composer
A major force in 21st century concert music, Victoria Bond leads a dual career as composer and conductor. Her compositions have been praised by the New York Times as "powerful, stylistically varied and technically demanding," and her conducting has been called "impassioned" by the Wall Street Journal and "full of energy and fervor" by the New York Times.
Victoria...

Music Festival
Composer and conductor Victoria Bond is the founder and director of Cutting Edge Concerts New Music Festival. CEC has been called "a full-throttle commitment to contemporary music" by Chamber Music America, and "a gift to New Yorkers thirsty for new sounds" by Time Out New York. Now in its 20th season, highlights of the 2017 festival include the Eroica...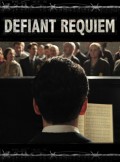 Artist
Created and conducted by Maestro Murry Sidlin, Defiant Requiem: Verdi at Terezín features a full performance of Giuseppe Verdi's Requiem Mass. The performance includes actors, historic film footage from Terezín and interviews with original chorus members relating the full, impassioned story of how and why these Jewish prisoners,...

Concert
Celebrate the unique blend of East and West with premieres from some of Hong Kong's most talented up-and-coming composers (composer bios below). Acclaimed instrumentalists Linda Chatterton (flute), Rachel Brandwein (harp) and Aristo Sham (piano) premiere works by contemporary Hong Kong composers Wendy Wan-Ki Lee, Austin Yip, Galison Lau and others. The concert program features chamber...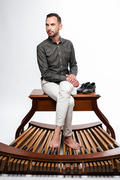 Artist
Organist Christopher Houlihan is widely acknowledged as one of the brightest stars in the new generation of American organists, praised by the media as "gifted" (New York Times), "dazzling" (Wall Street Journal), and "eloquent" (Los Angeles Times). Still in his 20's, Houlihan's international performing career is well underway, having performed in celebrated...

Artist
Kepler Quartet has completed a 14-year long labor of love: recording all ten string quartets by the American composer Ben Johnston (born March 15, 1916). Johnston's microtonal string quartets are incredibly lush, surprisingly accessible and fiendishly difficult to play. Volume 3 of this recording project is released on New World Records in April 2016.
Composer
New York-based composer James Matheson is widely regarded as one of the most distinctive, vital, and creative musical voices of his generation. 2016 marks the release of Matheson's first portrait CD, with premiere recordings of his Violin Concerto by Baird Dodge, Esa-Pekka Salonen, and the Chicago Symphony Orchestra, String Quartet by Color Field Quartet, and...
Artist
A consummate musician recognized for her grace and vitality, Orli Shaham has established an impressive international reputation as one of today's most gifted pianists.

Record Label
For four decades, Thomas Steenland has produced compelling recordings of alternative classical, experimental, and avant-garde music. Thomas Steenland founded Starkland in 1991 to reissue recordings of legendary works by the electronic music pioneer Tod Dockstader. In 2016, Starkland celebrates its silver anniversary with a CD of Dockstader pieces which were discovered after his death in 2015....

Artist
Based in the Upper Manhattan neighborhood of New York City, the Washington Heights Chamber Orchestra is a professional ensemble that presents free concerts to the community. 2016-2017 marks the orchestra's second season, highlighted by nine free concerts and two special events. Comprised of musicians from Upper Manhattan, the orchestra presents engaging concerts with a diverse repertoire;...