Gail Wein provides communications services for artists and projects in classical music, including Publicity, CD Promotion, Web Content, Program and Liner Notes, Radio Production and Communications Consulting.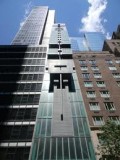 Concert Series
With its architectural landmark building in the heart of Midtown Manhattan, the Austrian Cultural Forum New York is the cultural embassy of Austria in the United States. It hosts more than 100 free events annually and showcases Austrian contemporary art, music, literature, and academic thought in New York.

Artist
Embracing the unlikely combination of saxophone and harp, the Admiral Launch Duo (Jonathan Hulting-Cohen, saxophone and Jennifer R. Ellis, harp) performs groundbreaking commissions, unexpected transcriptions, and improvisations. Named for the Admiral butterfly and launched at the Fresh Inc Festival in 2013, the duo has since appeared at venues coast-to-coast. Hulting-Cohen is on the faculty at the University of Massachusetts Amherst and Ellis is credited with more than 80 world premieres. The Duo has spent several years researching and commissioning repertoire for this unusual but beautiful ensemble.

Concert Series
The interactive concert series Baby Got Bach, hailed as "magical" and a "wonderful carnival of musical exploration," was founded by concert pianist Orli Shaham in 2010. As Artistic Director, she draws on both her background as an internationally renowned musician and her experience as the mother of young children. Designed for children ages 3-6 and their families, Baby Got Bach features live chamber music in a participatory format. The concerts feature hands-on activities followed by performances that encourage audience participation and develop listening skills.

Concert Series
Baruch Performing Arts Center (BPAC) is an active presence in the heart of Manhattan. Located just east of the Chelsea neighborhood, BPAC presents world class Classical music, Jazz, Pop, theater, dance, literary and spoken word, film, and talks. BPAC's 2018/19 season features pianist Guy Livingston's Dada at the Movies; recitals by Joshua Roman (cello), Tessa Lark (violin), and Brian Mulligan (baritone voice); chamber ensembles Canadian Guitar Quartet, Israeli Chamber Project, and the Alexander String Quartet; and the New York premiere of composer Huang Ruo's opera Bound, co-presented by Fresh Squeezed Opera.

Composer
A major force in 21st century concert music, Victoria Bond leads a dual career as composer and conductor. Her compositions have been praised by the New York Times as "powerful, stylistically varied and technically demanding," and her conducting has been called "impassioned" by the Wall Street Journal and "full of energy and fervor" by the New York Times.
Victoria Bond's new groundbreaking opera, Mrs. President, tells the true story of Victoria Woodhull, who, in 1872, was the first female candidate to run for the US presidency. Anchorage Opera presented the premiere of the newly orchestrated score of Mrs. President in October, 2012.

Music Festival
Composer and conductor Victoria Bond is the founder and director of Cutting Edge Concerts New Music Festival. CEC has been called "a full-throttle commitment to contemporary music" by Chamber Music America, and "a gift to New Yorkers thirsty for new sounds" by Time Out New York. Over the course of 21 years, Cutting Edge Concerts has presented 305 works by 191 composers on 66 concerts. Each program highlights the music of living composers, all of whom attend the concert. Along with performances by world-class ensembles and soloists, each program features on-stage discussions between host Victoria Bond and the composers.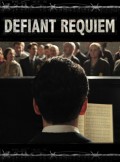 Artist
Created and conducted by Maestro Murry Sidlin, Defiant Requiem: Verdi at Terezín features a full performance of Giuseppe Verdi's Requiem Mass. The performance includes actors, historic film footage from Terezín and interviews with original chorus members relating the full, impassioned story of how and why these Jewish prisoners, who faced death every day, chose to learn and perform the Verdi Requiem during their darkest hours.
Defiant Requiem: Verdi at Terezín has been performed at The Kennedy Center in Washington, DC; Lincoln Center in New York City; in Jerusalem as part of the Israel Festival in May 2012; before an audience of 5,000 in Budapest in 2010; at St. Vitus Cathedral in Prague; and in Terezín itself. The concert was performed in Berlin on March 4, 2014.
The Defiant Requiem Foundation, in partnership with Partisan Pictures, produced Defiant Requiem, a moving and powerful feature-length documentary film that tells the inspirational story of how and why conductor Rafael Schächter recruited a chorus of 150 fellow prisoners and taught them the powerful and enormously demanding Verdi Requiem by rote. Narrated by actor Bebe Neuwirth, the film has been broadcast on PBS and on BBC4 in the U.K and received numerous awards nationwide, including two Emmy nominations.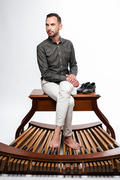 Artist
Organist Christopher Houlihan is widely acknowledged as one of the brightest stars in the new generation of American organists, praised by the media as "gifted" (New York Times), "dazzling" (Wall Street Journal), and "eloquent" (Los Angeles Times). He has performed in celebrated venues in major cities across North America and Europe, as well as at numerous conventions of the American Guild of Organists and the Organ Historical Society. Houlihan holds the position of John Rose College Organist-and-Directorship Distinguished Chair of Chapel Music at Trinity College in Hartford, Conn., succeeding his former teacher John Rose.
Artist
A consummate musician recognized for her grace and vitality, Orli Shaham has established an impressive international reputation as one of today's most gifted pianists.

Artist
Based in the Upper Manhattan neighborhood of New York City, the Washington Heights Chamber Orchestra is a professional ensemble that presents free concerts to the community. 2018-2019 marks the orchestra's fourth season. Comprised of musicians from Upper Manhattan, the orchestra presents engaging concerts with a diverse repertoire; including favorite classical works, genre bending crossover pieces, and works by living composers.
The WHCO was founded in 2015 by conductor and music director Chris Whittaker. The WHCO strives to engage the people of Washington Heights and neighboring communities through exemplary musical performances and innovative educational programming. All concerts are at the Fort Washington Collegiate Church at the corner of Fort Washington Avenue and West 181st Street. The WHCO is a non-profit performing arts organization.